Carly Loewenstein (DPT)
Carly grew up in Westchester, NY. She is the youngest of 3 kids and her favorite childhood memories consist of spending time with her family and friends, playing sports, and being outside in the sun. She attended Quinnipiac University where she earned her doctorate of physical therapy. She has prior pediatric and manual therapy experience with continual growing interest in Visceral Manipulation, Myofascial Release, and Craniosacral Therapy. Carly has been working as a physical therapist since 2015. She started her career working several years in pediatrics with children birth to >25 years of age and varying diagnoses. Despite loving working in pediatrics, her desire to grow and expand her manual therapy skills took her to another working experience where she developed her skills more specifically with Myofascial Release, Craniosacral Therapy, and Visceral Manipulation. This expanded her knowledge to learn the emotional, physical, and spiritual aspects of healing. Since then she has continued to expand her skills in these areas among others since working at Universus Physical Therapy.
Growth Authenticity Respect Kindness Fun/Humor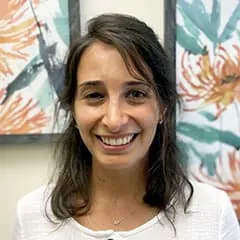 "Life is not a struggle, it's a wiggle!"
Carly Specializes In: Manual therapy such as Myofascial Release, Craniosacral Therapy, and Visceral Manipulation to improve the regulation of the nervous system, structural impairments, and gut health.
Patients who experience back and neck pains, headaches, anxiety, gut distress, emotional stresses and traumas, PTSD, patients who were in car accidents, etc., can all benefit from different manual techniques. Carly strongly believes in the mind-body connection and how emotions and old injuries can impact how our bodies show up today. It can be a process to work through things but Carly is eager to aide in that process.
Carly loves that Universus provides a space that allows for one on one care with patients to truly explore their condition. In total it is a wonderful group of people who all have a common goal of helping patients improve in the best way that they are capable!
What is Dr. Carly Watching, Reading, or Listening to?
Podcast: Expanded by To Be Magnetic
Movies: Finding Nemo, Bridesmaids, You've Got Mail
"Carly is a godsend!!! I am so grateful for this journey to recovery I am on with her. I go twice a week to meet with her and every time I leave I feel a little lighter. My process is a slow one due to the severity of my pain in recovery and she is so gentle with me. She is absolutely brilliant in her field and the way she handles me with care while also working to fix all of my "broken" parts is truly remarkable. If I had not come to Universus and started with this work I would be in excruciating pain still. My pain has significantly diminished and I do still have a long way to go to get my muscle back and be pain free but I am so confident I will get there with Carly's help. I look forward to my days that I meet with Carly. I wish I could go every day."
"Carly is my hero! She showed caring, intelligence and helped me through a tough time. Wish she was in Florida with me right now!"
"Carly, I felt AMAZING after our session. I had such a calm that lasted throughout the day. I felt SO relaxed, yet energized. Somehow you took my stressed energy and replaced it with peace!!! The session with you was incredible!!"