John Fleitman (DPT)
I was born and raised on the south shore of Long Island, I received my Bachelor of Science in Psychology from Stony Brook University, from there I enrolled at Touro University where I received my Doctorate in Physical Therapy. I was a Dean's List honoree and member of the club baseball team during my time at Stony Brook. At Touro, I served as President of the Student Physical Therapy Association and received an award of Academic Excellence for graduating at the top of my class.
Passion, respect, integrity, honor, and loyalty.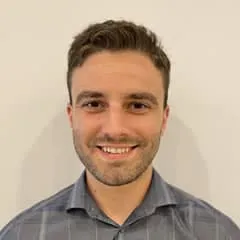 "Invisible threads are the strongest ties" – Friedrich Nietzsche
I am a Physical Therapist with a specialization in manual therapy, making the necessary adjustments to alignment and mobility throughout the body. A home exercise program to facilitate further corrections in mobility, strength will follow. I have a strong interest in working with golfers as a Titleist Performance Institute (TPI) certified clinician.
I enjoy treating mechanical dysfunctions of all joints, with a special interest in the spine.
I thoroughly enjoy being employed at the whole body holistic healing center which Universus is. Humans are very capable of healing without the need for as many drugs, surgeries, etc. than what you have been led to believe. A consultation with us will help you discover any psychosocial, nutritional, or anatomical limitation preventing you from living without restriction.
When I'm not working, you can find me downhill mountain biking, golfing, participating in disc golf tournaments, hiking, and traveling. On weekends in which I stay close to home, I spend a lot of time on the east end visiting wineries and breweries, at local coffee shops, and reading. I'm also a fan of baseball and hockey, rooting for the Baltimore Orioles and Philadelphia Flyers, two true testaments to my loyalty.
What is Dr. John Watching, Reading, or Listening to?
The Patriot (movie)
All Quiet on the Western Front (movie)
Good Will Hunting (movie)
Dan Carlin's Hardcore History (podcast)
Supernatural (show)
Ron Chernow's biography of Alexander Hamilton (book)
"Thanks so much to John Fleitman for all the good work, you've been really helping! I appreciate everything you're doing for me and the explanations that come along with it!😄 Many thanks"