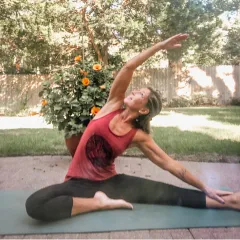 Pam Tirrito
Pam has been a yoga practitioner for over 15 years and has a dedicated self-practice. Naturally, her consistent practice, ongoing education, and love of yoga inspire her to share with others! Pam completed a 200-hour YTT training and certification in Refined Flow at Absolute Yoga under Leslie Luft and Elyce Neuhauser. She completed a 200-hour teacher training program with Loren Roche as a Radiant Sutra Meditation Teacher as well as the Yogi Beans Kids Training Program.
Pam believes movement changes everything. When we move better, we feel better. Physical therapy patients can benefit from the numerous advantages of yoga: autonomic nervous system relaxation, increased flexibility, improved strength, and psychological healing. Yoga can help you become less stiff and awkward and more easeful and efficient in how you move through your life. Pam's classes include special attention to alignment, breath, and awareness of the body. Classes are taught with consideration of individual needs allowing the student to embrace yoga with curiosity and without judgment.
In addition to her yoga practice and education, Pam is a Literacy Specialist in grades K-2 for over 25 years and feels the greatest gift is watching her young students learn how to read! Pam radiates positivity in every class, emphasizing self care and promoting a mindful practice!