Sarah Greenberger
I grew up and still live in Commack. I'm currently completing my associates degree, and will graduate in December. After that I plan on transferring for my bachelor's degree! I have experience with organization, office responsibilities, and sales experience which allowed me to work with people. I love to interact with other people and get to know them so that I can assist them in the best way possible.
Adventure, Empathy, Honesty, Happiness, Equality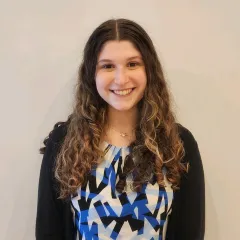 "Life's a climb but the view is great"
I'm the face you see when you enter our facility and the voice you hear when you call us. At Universus, I'm here to greet you, check you in and make sure you're all set for your appointment. I will also schedule your future appointments. I know patients sometimes feel hesitant or nervous to come in for treatment. I want to provide a welcoming and safe environment that they feel comfortable and excited to return to.
I love working with the team at Universus. Everyone is extremely welcoming and kind; it's a very nice environment to be a part of. I feel very lucky that I get to help patients and be a part of their journey to wellness and healing.
I am a very family and friend-oriented person, so when I am not working I spend most of my time with them. I love music, traveling, and finding new things to try.
What is Sarah Watching, Reading, or Listening to?
Barbie (movie)
Modern Family (show)
Gilmore Girls (show)